My life has changed drastically since my first post: I didn't have a roommate, I didn't have a job, and I was fighting with the navigo machines instead of wrestling the true battles (croissant or croissant beurré?).


Cat and my roommate Charlie '10 both arrived on Thursday morning and they spent the afternoon recovering from jet lag. Good thing Charlie can sleep almost anywhere. Sort of:


We had a relaxing dinner in our dining room (read: cafe table in the corner of the living room). I made the chicken tagine with dried apricots, plums and olives with couscous that I'd practiced making the night before at Elsa's house for her family and Sebastian '10. Tasty. At that point, I figured if my job at the Herald Tribune never got under way, at least I'd know my way around the kitchen.


For the next few days, Cat and I did a combination of touristy activities and other kinds of explorations (
Palais de Tokyo
--their "Superdome" exhibition was far less jovial than the crocodile one from two years ago, sorry Kitty;
the
Eiffel Tower
; Kickback lessons 101 for Becky [The essentials: 30 Rock, The Office + wine, cheese and hazelnut bread]; Moroccan dinner near the

Sorbonne

with friends doing the Columbia University program;
Père Lachaise
cemetery (Proust's grave--of course he was buried with his family--was the perfect closure to last semester's beast of a Proust class); the
Centre Pompidou
(it may look like plumbing from the outside but it's home to one of the best collections of modern art I've seen); dinner and wandering in the
Marais
at night; a Harvard in France picnic on the tip of
Île de la Cité
; sidestand crepes; all-nighters spent laughing). And of course everything was lubricated with café crème-s galore.


On Saturday, Charlie, Cat and I headed to Elsa's house for dinner since her mother's longtime friend Jean, un cusinier célèbre, offered to give me cooking lessons for a night. It was amazing to see someone with a true chef's mind in action. No recipes, just a sketch of a shopping list that reminded us to get whatever meat and vegetables looked the freshest. We opted for pintades (Elsa: "like chicken, but tastier"), white asparagus, and spring vegetables.

Le menu:

Entrée (FYI: Americans botched this. Entrée really means entrance, as in first dish, not main course): Quiche Lorraine, steamed white asparagus and dressed greens.
Main course: Les Pintades with Carrots, Pearl Onions and Butter Potatoes and Peas.
Cheese: Salers, Comté, Roquefort (Papillion Noir is the best), Camembert and Brébis
Dessert: Apricot and Raspberry tart.

Exquisite and so simple.


Cat's last night was when things really got interesting. We were having coffee as usual on Rue Montorgueil, talking about Corenthen-the-Parisian who became a summer-long friend last year after a chance encounter in Central Park. We were trying to figure out how he cemented himself so easily in the native New Yorker
scene so we could do the same in Paris.
Cat pointed
out three random kids walking down the street and said out of their
earshot, "Why can't we meet kids like them? They'd be great." Five minutes later, those same kids--two boys and a girl--came back and invited us to watch a soccer game with them. Within an hour, they were our tour guides for

Montmartre

and

Sacre Coeur

. They took us to their favorite spots and introduced us to their group of friends who cycled in and out the whole night. Surreal. (Bonus note: Did Kitty find true love?)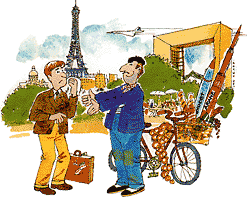 (<--courtesy what else but discoverfrance.net.)
Since Cat left on Tuesday morning, the apartment's seemed really empty, but it's given Charlie and me a chance to set up a routine. We've decided to be hyper Parisian for 6 days of 7--speak French, hide cameras, refrain from map use etc. And then for the 7th, we have to be unabashed tourists: Les Bateaux Mouches in the Seine, obliviously block metro doors, find the American Diners in Paris.


Work also started for me on Tuesday. After sticking up for myself (the IHT was going to stick me on "special projects"--mining the French media for references to the IHT or organizing an awards ceremony) by citing the internship agreement, I was assigned to the night copy shift (3:30-9:30pm) in the newsroom. Perfect! It's soooo good to have a schedule, to have a sense of purpose... (They also seem pretty flexible about requesting days here and there to go traveling. Dream trips: Corsica chez Elsa, Southern France with Elsa and Jean the cook, Prague, Dublin, Amsterdam, Berlin and Turkey. I mean, nowhere in particular?) I'm training for the next two weeks with an intern, Katyln, from Berkeley. For now, my job entails organizing the 4 different daily editions of the IHT, publishing the daily Oxford Analysis, answering Web Help emails and setting up the news meeting. The meeting's my favorite part of the day. The managing editor Alison Smale, with a British accent to match her no frills demeanor, is brilliant and perspicacious. A typical exchange:
The Financial Editor: "I heard a panda died in the China quake."
Ms. Smale: "I HATE animal stories."
Silence.


The job's pretty administrative for now, but it's really giving me a lot of insight into how a newspaper's run. (Layout, systems for organizing the reporters and editors, how much thought goes into the stories that make the front page, the relationship between various news media outlets, etc.) It's really made me want to get more involved in The Crimson when I get back to school. Also, hopefully I'll get to write actual copy soon--apparently a recent intern situation put a temporary (?) hold on interns publishing articles--but there's
a globespotters blog on the IHT website we can still contribute to. It's kind of like Let's Go for the Herald Tribune. Food journalism in real life, here I come.


And finally, l
ast night after work, I ran along the Seine with the Louvre to my right, les ponts to my left and the Eiffel Tower off in the distance.
Paris really does turn a cold shoulder until the very last moment when pulls out everything to seduce you
. Well done sneaky Pareeee, well done.

Other news:

There's a silent movie on exhibit at the Centre Pompidou called

This Is not a Time for Dreaming

staring puppets named Le Corbusier and Mr. Harvard (an ominous Darth Vader-esque black blob described as "the dean of deans"). It tells the story of the construction of THE Carpenter Center.
Jean offered me an apprenticeship at his friend's restaurant in the Côte d'Azur next summer. Sick.

The mark "Concession à Perpetuité" (

Concession to Perpetuity

) on French graves is exceptionally beautiful.
Found the French equivalent of Pinkberry/ Berryline: My Berry. Terrfying/ Something for American day.


Booked my tickets for London for the weekend of the 22nd when Elsa, Giulia '09, and I will be off to a masquerade ball for a friend's birthday. Crazy.